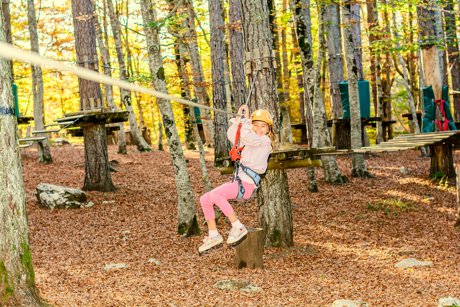 Adventurers fly through the air over Bellevue real estate. The SBCC Challenge Course combines aerial trails, zip lines, and obstacle courses. Located in Eastgate Park above the South Bellevue Community Center an energetic challenge awaits.
Four zones are setup for high quality play about the Bellevue property. The low course is close to the ground but stimulating all the same. In the high course obstacles are raised to new heights. In the vertical playpen a series of rope courses are expertly laid out. Zip line up and across the sky. Seven ziplines intermixed with suspension bridges provide the ultimate bucket list adventure. Brave participants burst through the treetops of Douglas Firs, broad-leaf maples, and cedars. While in the air birdseye views of Mt. Baker and Glacier Peak sneak through the leaves of the trees.
Bellevue Property Is Fitted For Fun
Each October the course transforms into Zip Scare. Zooming through the night sky with glow stick lighting highlighting the path adds to the excitement. Challenge camps take place during the summer, and are designed especially to motivate young people.
The SBCC Challenge Course is conveniently located off of both the I-405 and I-90. This hidden Bellevue real estate gem combines a great time with stunning scenery. With children as young as nine years old able to participate, families love to spend time out on the course. Reservations can be made online or by calling 425.452.4240.