There is never a shortage of fun ways to enjoy King County. Here are a few of the most highly anticipated events happening around King County this Spring.
Emerald City Ride
Date: Sunday, April 8th, 2018
Time: 7:00 AM
Location: Pyramid Alehouse (1201 1st Ave. S, Seattle, WA 98134)
Want to experience Seattle like never before? You must make time for the Cascade Bicycle Club's Emerald City Ride. This year, the route includes the Alaskan Way Viaduct and Aurora Bridge, giving riders the chance to bike through the Viaduct before it's demolished next year. Riders can choose between the 3-mile Viaduct-only experience, or the full 12-mile loop (which travels north on Aurora to Fremont and Gas Works Park before returning south on I-5 Express).
The 12-mile route also includes a rest stop across from Ivar's in Fremont, and will feature baked good from Essential Bakery, Clif products, and other snacks. Riders will also receive a commemorative souvenir, and t-shirts will also be available to purchase.
What You Need to Know About the Emerald City Ride
Riders on the 12-mile route will start between 7:00 AM and 8:45 AM, whereas those biking the 3-mile option will start at 9:15 AM.
There will be an official after-party for the event at the Pyramid Alehouse between 9:00 AM and 12:30 PM.
Learn more and register for the Emerald City Ride by clicking here.
---
Kirkland Wine Walk
Date: Friday, April 20th, 2018
Time: 5:00 PM (early bird admission) & 6:00 PM (general admission)
Location: Heathman Hotel (220 Kirkland Ave., Kirkland, WA 98033)
Walking and wine: a match made in heaven. Mark your calendar for the Kirkland Wine Walk, which promises to be a decadent and delightful evening. You will be able to sample a variety of different local wines at different locations in downtown Kirkland, and perhaps find a new and unexpected favorite while mingling with the merchants.
What You Need to Know About the Kirkland Wine Walk
This is a 21+ only event. Organizers also strongly recommend that attendees do not bring their dogs or non-ticket holders with them on the walk, as space is limited.
Each ticket holder will receive a complimentary tasting glass, 14 tasting tickets, and a map listing the wines offered at each location.
Not able to make it this April? The Kirkland Wine Walk is being held multiple times this year due to popular demand, so you can also attend this event in June, October, or November.
Learn more and buy tickets for the Kirkland Wine Walk by clicking here.
---
North Bend Jazz Walk
Date: Saturday, April 21st, 2018
Time: 6:00 PM - Midnight
Location: Downtown North Bend, WA 98045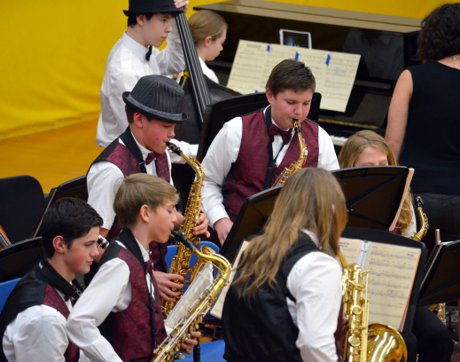 Earlier this week, we let you know about the Bainbridge Island International Jazz Day Concert that is happening on Friday, April 27th. Kickstart your jazz appreciation before then by attending the North Bend Jazz Walk. At this event, attendees can enjoy live jazz music at various locations in downtown North Bend, while also supporting local businesses. The Jazz Walk also uniquely features local award-winning high school jazz ensembles in addition to professional artists.
What You Need to Know About the North Bend Jazz Walk
This is a family-friendly event! Bring your little ones with you to enjoy live music and food at Pioneer Cafe, Georgia's Bakery, the famous Twede's Cafe from "Twin Peaks," and more.
The North Bend Jazz Walk is in its seventh year and is courtesy of JazzClubsNW, a non-profit organization dedicated to supporting live Jazz music performances and educational opportunities across the Pacific Northwest.
Learn more and buy tickets for the North Bend Jazz Walk by clicking here.
---
Thinking of Moving to King County?
If you are like most people, you want to live in a place where you can work, play, and lead a happy, healthy life. Unlike most regions, Western Washington offers you the ability to have it all!
Buying and selling real estate is a very serious endeavor, but it should still be an enjoyable and lucrative one. That experience is so much more comfortable and stress-free when you have the help of people you trust on your side to handle all of the details, paperwork, and legal complications that can arise.
To be genuinely confident when buying a new home for you and your family, you should always rely on the guidance of a local expert that understands the area on a deeper level. That's where we come in.
RSVP Real Estate is a locally owned and sourced firm with an emphasis on family. Our team of elite local brokers knows the area like the back of their hands.